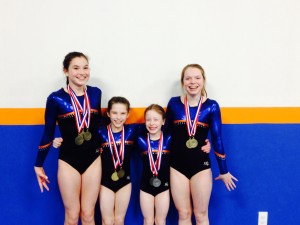 COMPETITION HIGHLIGHTS:
Argo & Tyro level 6:
Maia MacLean placed 4th overall with a third place finish on bars and beam. Liah Mah placed 5th overall and teammate Lindsey Smith had a third place finish on vault, second place finish on floor and placed 6th all around. Kali smith won silver on beam.
Novice level 6:
Isabella White claimed first place on bars, second place on vault and was the overall gold medalist. Mia Stewart finished 3rd on bars and 5th overall. Teammate Shelby Beaton claimed silver on floor.
Tyro level 8:
Seven McHatten claimed gold on beam and floor, followed by a second place finish on bars. Seven was the all around gold medalist in Tyro level 8.
National level (pre novice aspire, elite & national open):
Chloe Cudmore finished 1st on beam, third on bars, third on vault, second on floor and won the silver medal overall in the pre novice national aspire category. Kenzie Myers was the all around champion in the pre novice national elite category and claimed gold on all events. Madison Kelly Maund was the silver medalist on vault in the national Open category!
Fantastic job to our athletes and coaches this past weekend!!!!
Please download the following form and bring it to the registration office with your child for their first class;
Medical Form